* "Many readers will see themselves reflected in the pages of this collection and be inspired by the first-hand accounts of overcoming adversity. A great pick for budding writers and activists."
– SCHOOL LIBRARY JOURNAL, STARRED REVIEW
---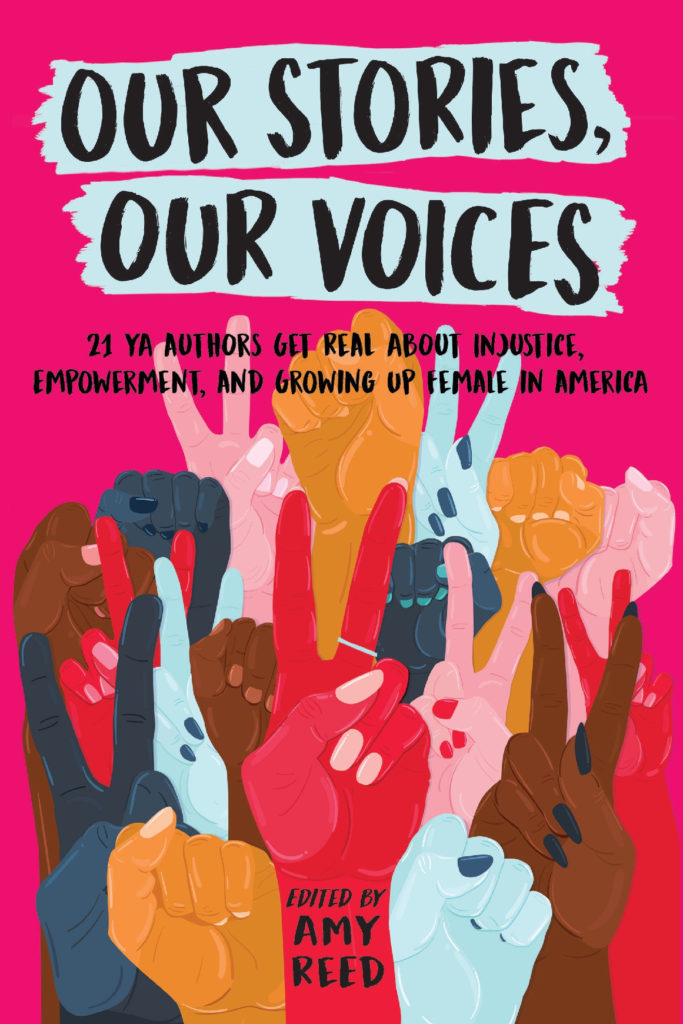 ABOUT THE BOOK
"This book, this act of resistance, says our stories matter. Our lives matter. Our voices will not be silenced."
In a collection that covers a wide breadth of topics, twenty-one YA authors share deeply personal thoughts and experiences about growing up female in America. These essays explore themes ranging from the intersection of race and gender to women and weight, from first sexual experiences to the devastation of rape culture, from the unique facets of being first- or second-generation American to the role of faith in our culture, and everything in between.
Ultimately, it's a message of hope and empowerment from women who have built their lives around the idea that words matter. Voices matter. It's time to use ours.
Edited by Amy Reed, with essays by: Martha Brockenbrough, Jaye Robin Brown, Sona Charaipotra, Brandy Colbert, Somaiya Daud, Christine Day, Alexandra Duncan, I.W. Gregorio, Maurene Goo, Ellen Hopkins, Stephanie Kuehnert, Nina LaCour, Anna-Marie McLemore, Sandhya Menon, Hannah Moskowitz, Julie Murphy, Aisha Saeed, Jenny Torres Sanchez, Amber Smith, and Tracy Walker.
Praise for Our Stories, Our Voices
* "Twenty-one YA authors—including such well-known figures as Ellen Hopkins, Maureen Goo, and Printz award-winner Nina LaCour, as well as two unpublished authors selected from a call for submissions—reflect on their early lives and what it means to be a woman in the United States. Many of these writers experienced marginalization as younger girls based on race, immigration status, sexuality, or simply not fitting in. Each turned to writing as solace, an outlet, or a way of speaking out against injustice. The stories are all unique, some focusing on the subject's childhood, others on their lives as adults. Many discuss their anger at the recent presidential election and put out an inspiring call to action. The authors speak directly to readers in an informal tone; the essays are written in the first person with some casual profanity. A content warning in the editor's note mentions that the entries discuss race-based and sexual violence. A resource list includes websites of activist organizations, in addition to information on how to participate in the political system. VERDICT Many readers will see themselves reflected in the pages of this collection and be inspired by the first-hand accounts of overcoming adversity. A great pick for budding writers and activists."
(School Library Journal, STARRED REVIEW)
"Threaded through these essays is the power of art and creativity in tackling the task that lies ahead: forging a better, more just world for future generations. Truthful and empowering."
(Booklist)
"Oustanding anthology . . . A clarion call to activism, the book empowers girls growing up with injustice in America by reflecting authentic and original voices from across the spectrums of race, gender, and religion and encourages them to speak their truths and become warriors for social justice."
(School Library Connection)
Awards & Honors
Bank Street Best Children's Book of the Year Selection Title
Eureka! Excellence in Nonfiction Award Honor Title (CA)
– ON SALE NOW –